Day 4 – Shira Huts – via Lava Tower (4640 m/15220 ft) – Barranco Huts (3985 m/13070 ft)
Walking distance: 9 km/5.6 miles
Walking time: 6-8 hours
Altitude gain: 135 m/440 ft (790 m/2590 ft to Lava Tower)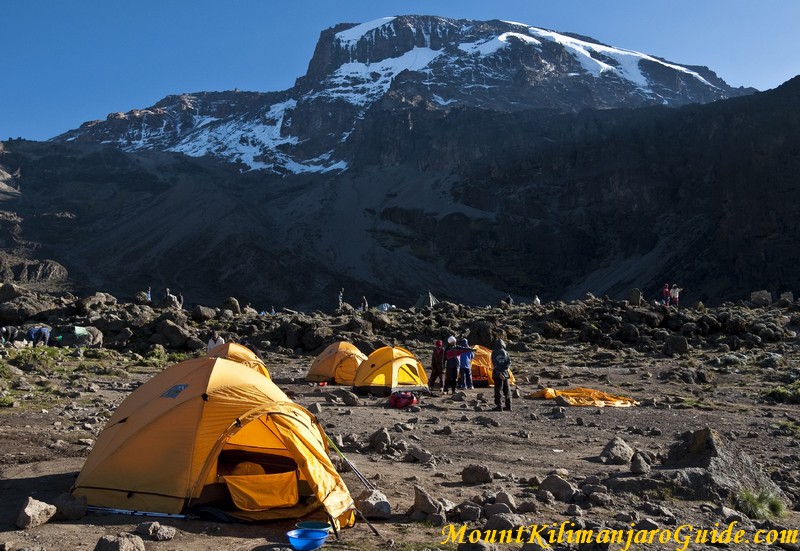 Since they camped at Shira Huts, the fourth day started with a good two and half hours of walking mostly gently uphill (and scrambling a bit for two short sections). Following the slope of the Lemosho Plateau they gradually left the heather and moorland behind and entered the mostly barren alpine desert region, enjoying breathtaking views all the way.
After some bends and ups and downs they reached the junction with the busy Machame Route. Shortly after that they came to another junction. At this point they headed towards the Lava Tower where they ate lunch.
The Lava Tower is a 100 m/300 ft volcanic plug, left over from times when Kilimanjaro was volcanic. The path towards it is a gentle slope and as they climbed towards it the short heather disappears altogether to reveal the rocky ground of the lava ridges.
The climb is often experienced as strenuous. After all, they've climbed up to over 4500 m and their bodies will surely notice the lack of oxygen!
After a much deserved lunch break near the Lava Tower they descended into the beautiful Barranco Valley, the result of a massive landslide some 100,000 years ago. The valley is sheltered by towering cliffs and is much greener. There is vegetation again, most notably the giant senecios and lobelias. They had great views across the plains way below and  also got their first glimpse of the Barranco Wall which they will climb tomorrow…
The Barranco Camp is without a doubt the most spectacular campsite of this route, with fantastic views of Kibo, the Western Breach and the first of the southern glaciers, a fitting reward after a strenuous day. They have been quite high today, but by climbing high and sleeping low they are giving their bodies the best chances to adapt. This was an important day for acclimatization.
From this point onwards all climbers follow the same trail to the summit. They are actually planning on reaching the summit a day early! Everyone is still feeling fine physically and they are in good spirit. When I talk to them I hear a lot of laughter in the background. This time they are actually completing the whole Lemosho route as they are not doing the Western Breach.  Their guide, Steve, told them that actually the last time he did the Western Breach was with them three years ago.  With the glacier melting so rapidly, the Western Breach is very unsafe and therefore, it is rarely used anymore.  It is estimated that within ten years there will no longer be snow on top of Mt. Kilimanjaro "the roof of Africa."
When I spoke to them, they had just reached camp and were happy to be there. Max and Ben actually reached camp 40 minutes before Howard and Shayna.  They are all ready to rest and sleep so they can continue tomorrow which is scheduled to be an exciting day as they traverse the Barranco Wall. Below are some images of the Barranco Wall. I think these photos illustrate exactly why I am not with them on this trip.
More tomorrow!
Anne