Day 6 – Summit attempt via Stella Point (5752 m/18871 ft) to Uhuru Peak (5895 m/19340 ft) and descent to Millenium Camp (3820 m/12530 ft) (or to Mweka Hut)
Walking distance: 5 km/3 miles ascent + 10 km/6.2 miles descent
Walking time: 5-6 hrs + 1-2 hours up, 5-6 hours down (the overall walking time may vary from 10 – 16 hours)
Altitude gain: 1072 m/ 3511 ft (Stella Point) or 1215 m/3980 ft (Uhuru Peak)
Descent: 2075 m/6810 f
As I said yesterday, "Expect the unexpected." We've learned this many times over.  As much as you prepare, until you're there in the moment, you never know what will happen. With that said, here is what happened today as best as I can piece together. I know that Howard will complete this blog with an update of his own upon his return.
Before bed, they prepared their day packs with everything they would need: rain gear, enough water, hand warmers, balaclava… The day will likely go down as one of the most physically challenging days in their whole lives.
They got up early and left at 5:00 AM to attempt the summit.  After an initial little scramble over some small cliffs to get out of the Barafu Camp, the path became easier to follow. But it didn't take long until they reached a sharp turn to the left. And then it started, the endless succession of switchbacks, snaking back and forth, back and forth, up the steep slope of loose, volcanic scree that is the side of Kibo Peak.
A guide describes it as follows:
"As steep as the slope is, due to the many switchbacks the path itself isn't all that bad. However, the scree is lose and you keep sliding down, and nothing's easy without oxygen. The air is incredibly thin, getting thinner all the time. You may feel horrible. Don't push yourself too hard. Take all the time you need and for goodness sake don't let anyone pressure you into moving faster than you feel comfortable to. Steady, steady, one tiny little step after the other. It doesn't matter if you reach Uhuru Peak or even the rim in time for sunrise. It only matters that you reach it and that you will be able to get back down safely! You can not move too slowly on Kilimanjaro. The people who do not feel the effects of the altitude are few and far between. Hopefully the worst you have to deal with is a headache and the occasional wave of nausea. Throwing up is not as uncommon as you might hope and is no reason for concern. It's only awful. It's impossible to have long breaks in these temperatures. The cold starts creeping into your hands and feet first, then into your whole body. When you cross a frozen stream and notice some boulders you are very close! It's about 30 minutes to the rim from here, but that last bit of slope is cruel, the steepest and hardest part of the whole night…The more time you spend at this extreme altitude, the more you will feel it. The path rises steadily. It may not look steep, but by now every step uphill can be a battle."
Howard has been moving slower so the kids moved ahead with George and their assistant guide.  Max, Ben and Shayna were about 800 feet ahead of Howard when Max began to feel altitude sickness. Being an intelligent young man he chose himself to descend and when he got to where Howard and Steve were they decided to escort him down so once again, Howard, at the very end, gave up his opportunity to summit because he is an amazing father.
Meanwhile, Ben, Shayna and George continued to ascend toward Uhuru Point.  At about 18,500 ft. Shayna experienced a very bad headache (probably due to the altitude) and when it continued to worsen the higher they climbed, Ben (because he's an awesome brother and a smart young man) made the decision to abort the climb entirely and take Shayna back down.  I believe they reached Stella Point which means that technically they will get a certificate because this is considered the 2nd highest summit.
Meanwhile, the descent is no picnic either.
The guide describes the descent:
"You probably don't have the tiniest little bit of energy left now. Well, guess what? The day has only begun and it's another long day…You now have to drag yourself back down. From Stella Point it's nearly 1100 m down, down, down… Until you get back to Barafu. The descent is cruel on the knees and you will appreciate the walking poles! If you scree run then this isn't too bad. It's actually quite fun. And fast! But pity those who have to stagger back down the same way they came up, switchback for painful switchback. You just want to collapse and sleep. But after what you have done to your body today it is not safe to remain at this altitude. You have no choice but to keep going. Down and down you go, for several more hours, to Millenium Camp or Mweka Huts, whichever your tour company chose. What will happen now is something of a miracle. Because as you descend further there will be air again. Oxygen! Lots of it! Oxygen is life and that is exactly what will be injected back into you. You may not believe this now, but there is a good chance that after this additional descent you may feel better and have more energy."
When they called me they were all reunited at camp and literally crawling into their sleeping bags to go to bed. Tomorrow they still have a 3-4 hour hike to finish their descent and will call me when they are back at the hotel.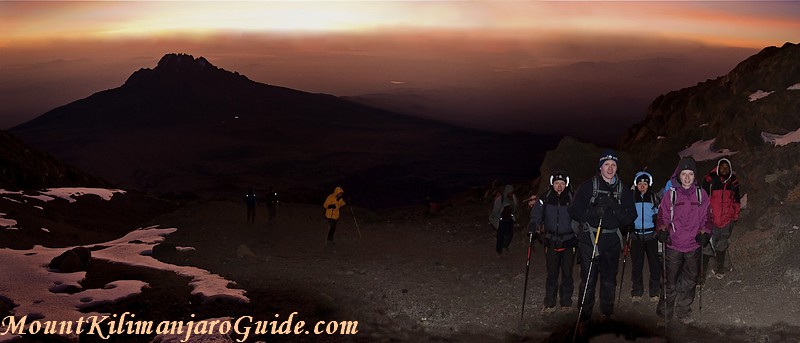 Very early morning on summit day on the Machame route. © Uta Philipp.
It takes most people five to six hours to reach Stella Point.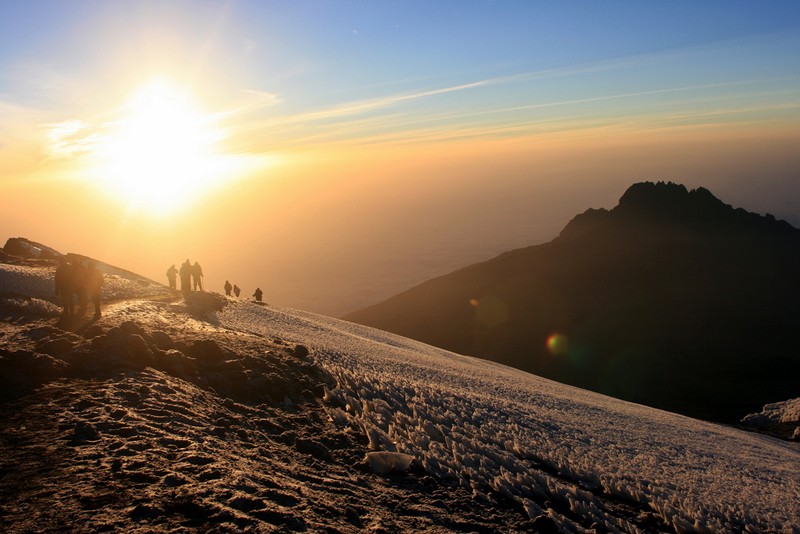 Stellar sunrise at Stella Point, photo by Abir Anwar
Tomorrow, according to the guide, should look like this:
"After breakfast you set off, down, down, down again. It's your last day on the mountain and you may have trouble getting enthusiastic about your last hike. What you will probably notice more is the fact that the path is rather steep, and that the steps on the steepest sections are hell for your abused knees. The day takes you through some really pretty forest with lots of birdlife. Try to muster some interest. It may distract from the pain.Once you get to the gate you'll have to endure some more formalities, but eventually you will say good bye to your guides (a sad and emotional moment), climb into the vehicle waiting for you and be whisked away to your hotel for hot showers and real beds."
I want to sincerely congratulate my dear husband and children! What they just accomplished is truly impressive.  I know how many years of training they have put in towards this.  I know how they have struggled with disappointments, time to train, etc. There is no way to describe or imagine the experience of climbing to nearly 19,000 feet altitude.
I am impressed with each of them together and individually for so many reasons:
Howard – I know you have been dreaming of this since you were a teenager. I am so glad that you had the opportunity to attempt this with ALL three of our children three times. I know that you had mixed emotions about going while leaving me at home but know that I have always supported you and your dreams and the way we have decided to parent together. These climbs taught our children perseverance and how to deal with disappointment and showed them that they can achieve anything they want to do.  I'm sorry you didn't get your triumphant moment but I love you so much and truly you are the best father ever!!!!
Max – I know you had to train this fall at school on your own and that you may not have chosen to do this again…but you did it to be with your sister on her attempt. I am proud of you for making the right decision for yourself when it mattered.  Altitude is not something you can play with and I'm really so proud of you for deciding to come down when you could literally see the summit within reach.  You traveled to Tanzania by yourself and your independence and self-confidence continue to impress me every single day.
Ben – I am always amazed by you! I know it wasn't easy to apply for colleges, train for pole-vaulting, train for the climb and continue to ace your classes all at the same time! But then to have the responsibility for your sister on the mountain and deciding to descend at the point you did, is remarkably mature!  I don't know many adults would give that up so close to the top…but you did.  You made the right decision.  You chose what you needed to do which is different from what you wanted to do and believe me…there is a big difference between the two.  I'm so proud of you!
Shayna – Wow!!!  Stella Point! You are a rock star, my awesome daughter! I'm told the porters are all impressed by how strong you are and how you never, ever, complained…not even a little!  I know how hard you worked for this and you proved you can do anything you set your mind to do!  I am sooooo very proud of you!  Now you get to go to Gombe National Park and see the chimpanzees!!!
Congratulations to all of you!  I can't wait to see you on Wednesday!
For all of you following this journey with us; thank you very much for your support!
Anne