December 27, 2017 – DAY 5
Day 5 – Barranco Huts – Barafu Huts (4680 m/15360 ft)
Walking distance: 9 km/5.7 miles
Walking time: 9-10 hours
Altitude gain: 640 m/2105 ft
I just spoke to them and they have now reached the Barafu camp. The word "barafu" is the Swahili word for "ice", which refers to the cold climate at this altitude. The temperature grows colder and colder as they near the summit. At this point the landscape is bleak and sparse. Barufu Camp (at 4630m) is set on an exposed ridge and is the staging point from which they will make their way to the artic summit zone tomorrow morning. Here is a photo of the sign at Barufu Camp (I don't know these people – I google all of the photos).
Barafu Camp has an otherworldly feel to it, perched on an exposed ridge in a bleak and barren landscape. They've been told to familiarize themselves with the area before the sun goes down! It is quite possible to simply step of the edge if you have to stumble around in the dark to find the toilet…
An overall photo of Barafu camp: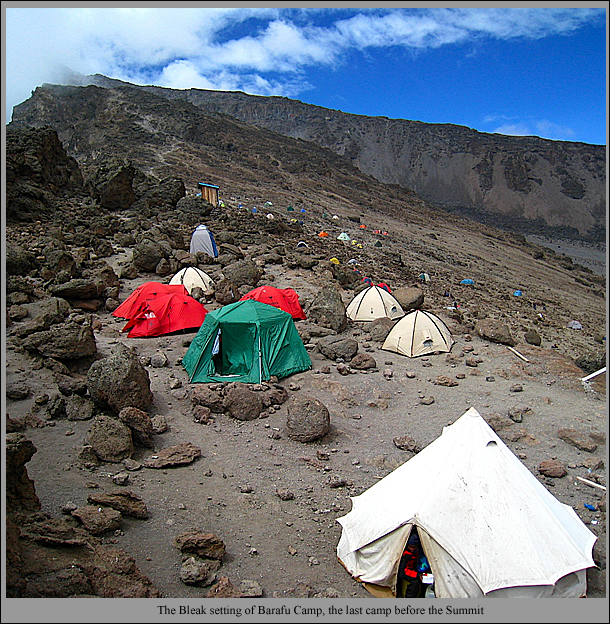 As anticipated, they had a really hard day traversing the Barranco Wall.  The wall part lasted about 2 1/2 hours (remember the photos from yesterday's update?) but the total day was 10 1/2 hours.  Again Max and Ben reached camp almost two hours ahead of Howard and Shayna.  According to Steve (their guide), the porters from other groups keep talking about how strong Shayna is on the trail.  She's the talk of the mountain!  There are quite a lot of groups on the mountain at the same time because this is the ideal time to go and therefore Shayna has become a little bit of a celebrity sighting amongst the other groups porters.
They plan to summit tomorrow a full day ahead of schedule.  This trip is hard on the body as they have now been camping multiple days, moving into higher altitudes with less and less oxygen, eating the same foods, etc.  They have to drink 2-3 liters of water per day to stay hydrated.  They are taking pills for malaria and altitude sickness but still…it's strenuous.
The other day I mentioned that our friend in Israel put a note in the Western Wall for the success of their mission and a safe return home. Well, my mother and I are in New Orleans.  Yesterday, we visited the famous St. Louis Cemetery Number One where the infamous voodoo queen, Marie Laveau is buried.  Yesterday on the tour I learned that Louisiana Voodoo is a religious offshoot of Catholicism which is even recognized by the pope!  Who knew?  Anyway, there is a legend that if you leave an offering to Marie at her grave and make a wish, then the wish will come true.  So I did that and I figure now they are really covered – there's a note at the Western Wall and an offering to a Voodoo Queen.
Tomorrow morning I hope to update you with the news that all four of them successfully reached the summit together!  However, a lot could still happen.  As we've learned from the other two attempts: "Expect the unexpected." So as you go to sleep tonight, please say a little prayer because while we sleep all night they will be attempting to summit and reach Uhuru Peak! They plan to leave Barafu Camp at 5:00 AM (8:00 PM our time).
Again, thank you for being on this journey with us!
Love,
Anne